You might be wondering, why your salon is not getting the expected results. Social media marketing using the right art of planning can improve the reach of your salon. The right SEO strategy can lead to marketing success and a high return on investment. Like any other industry, this window opens a wide range of opportunities to salons as well and our social media marketing services in Dubai help you to reap your future through social media marketing platforms like Facebook, Instagram, Twitter, etc
Evoke the Curiosity of Potential Customer
Rather than producing results as fancy numbers, establishing your brand in the market by optimizing your website and incorporating customized and effective SEO strategies is the key to opening your world to others for exploration. Cast a spell on your prospective clients by fascinating them with interesting posts on social media. Posting videos, beauty tips, pictures, or infographics that match the theme of your salon and can arouse curiosity is a way that can be followed. Interactive posts that evoke curiosity about having a unique experience in your salon can attract your targeted customers based on demographic data. Ask questions to your customer through social media and interestingly engage them personally for getting their feedback can be a donation to improve your salon business.
Relevance of Facebook
Being trendy with your makeovers and assigning the relevant post on FB utilizing the wide potential of it can lure clients to your salon., Before and after photos of makeovers, boasted styling techs, premeditated manicures for the season, etc can be photographed and posted on FB which can showcase your uniqueness is an easy salon marketing strategy. Pictures speak more volumes than simple texts. Prevailing customers share their makeover photos with their friends and family through which a new reference can take place for your salon.
Customer Engagement
In today's world, Facebook, where you can meet almost all folks, is a very good platform to interact with your targeted audience. The clients of our social media marketing agency Dubai have experienced tremendous growth by way of conducting FB contests and giveaways, deals, gift cards, and what all to keep you stay with the trend of the time.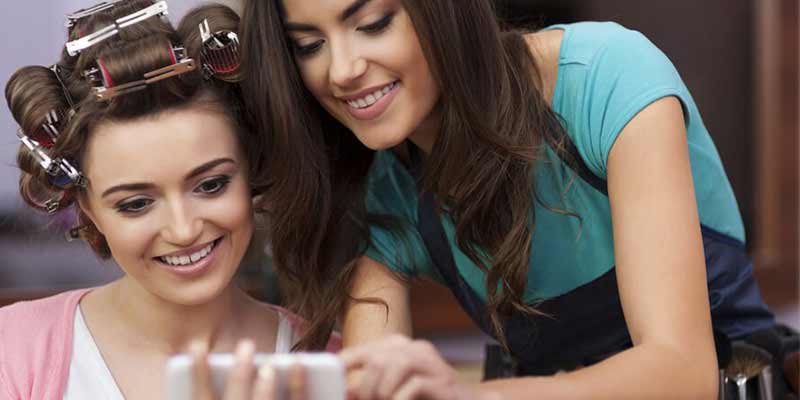 FB Followers and Fans
Getting rewarded by following you and being a fan of your salon will be a wonderful experience for your customers. Exclusive offers for your followers and fans will make the number of your followers increased and will likely get the results shared which can get more scores for your salon.
How to Manage FB Ads
We manage the FB ads and utilize them fully to target the targeted audience. Brands make deals with salons and post their ads on FB and other social media bridging the product and the salons which use their prestigious products. Such deals will entice and encourage targeted customers to visit your salon
Marketing Through Instagram
More and more people use stylish photos on their Instagram profiles and become viral these days. Trendy youngsters and fun-loving people using peculiar traits make viral cuts in their profile and become popular. Posting such photos showing your uniqueness in styling or characterized aspects to show your dedication and peculiarity of your salon can get shared by your fans. Using hashtags on Instagram to locate your salon easily can also be a good strategy to improve visibility and thereby get more customers.
Customers always like winning contests and getting freebies. Simple promotions like posting a photo of them when they are in your salon using your services, or after using the services and winning freebies or offers will encourage your customers to go online and give you free advertisement. We conduct exclusive Instagram contests, effectively use hashtags, and share posts that relate to your salon
Salon Marketing Through Twitter
Potential new clients can be shared with articles, your success stories, and customized services, and connect your website with the link. They read more about you. As with FB and Instagram, your salon can offer exclusive offers on Twitter as well. Enticing the supporters of your salon to retweet and get the exclusive offer is another great step to get more business.
Choosing the appropriate time to tweet is as important as posting articles or stories about your salon. Most of the people respond during the evenings of the weekend. Using demographic or location hashtags is also helpful for customers to find out and follow your salon. Giving beauty tips or personal advice over the phone or internet will encourage more people to follow you on Twitter
These social media marketing strategies are quite a few of what we really offer. Using a relatively small budget, you can reach your audience directly and improve your brand's image. In order to deliver outstanding results, we rely on exceptional expertise, knowledge, and experience. Our social media marketing services in Dubai help you to reach your goal and your successful future.
Related Post