Its been three decades since the Internet was invented. The initial purpose and range were limited to some organizations and few economically strong people, but now scenes have changed. If we look at the world around us, it can be seen that technology has reached even the most remote places. The Internet has taken humans a leap forward which has helped us explore the world with just a couple of clicks.

We are creating new opportunities and technologies to utilize them to our full efforts to gain this opportunity. Keep up with the trend. Even businesses are switching online apart from other services like shopping, clothing, schooling, online teaching, etc. But have you wondered what the necessities of an online forum are? I know you must have seen it but fail to remember. The answer is websites. Whatever company it may be, it is a trading company, shipping company, restuarants, school or other educational institution, etc., everything is now online and has a registered and authentic website.

Websites act as proof of trust and authority for a particular company. So it is one of the most critical components of an online presence. However, the challenge is that the trends and technologies keep changing, and one has to keep up with them to gain full authority. So to keep you updated, we have an article about web development technologies/trends 2022. Read further to learn the trends.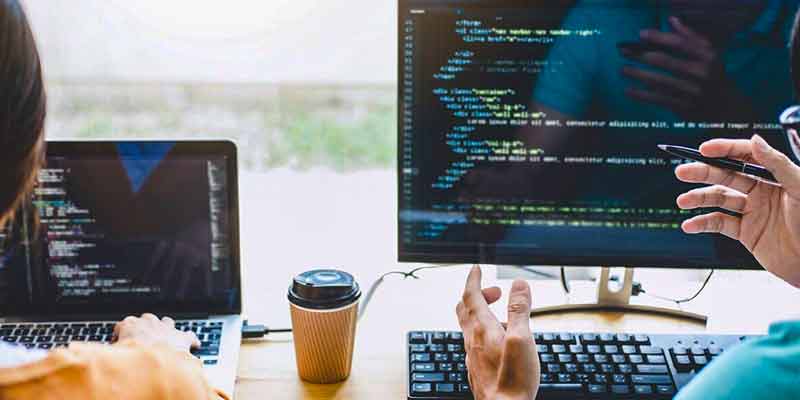 1. Bold it out.
Every website has a couple of information attached; however, the companies want people to read only a few. It's essential to grab the visitor's attention to the fundamental aspects and benefits or other details. The best technique to divert your visitor's attention towards any target is to make it unique in appearance. This can be done by making the keywords bolder than the regular texts.
2. Enable Micro interaction
You have a website, and you want your visitor to turn into a prospective client. One of the basic principles of marketing is to give regular CTA or Call To Action. Call to action is the process by which you remind the visitor to take measures to persuade him to turn into a consumer. Sometimes CTA can be done just by mentioning it repeatedly. But according to the current trend adding gifs and small animation proves to be much effective. This is known as Micro interaction.
3. Give space to micro animation
Micro interaction and micro animation can be pretty confusing. Micro energy is when you show the visitor the outcome or action by enabling a page with animation. The most common example is the lens frame test by some of the most prevalent eye care brands.
4. Color Code
According to a couple of psychological research, it has been proved that we have a stereotype or a color code enabled in our mind. This suggests that different colors can be used to replicate other emotions and actions. The website developers can use different colors to emote differently and enhance website performance.
5. Mobile friendly UI
All you need to do is look around. You will find phones to be the most used devices than any other device. Most people find it convenient to search and look after on their phone itself. So keeping a phone-friendly UI would give you good website performance.
6. Visualising Data
The best and most beautiful part of a company is its database and testimonials. You can display data in the form of graphs, charts, and other diagrams to grab people's attention. This will give your company good credibility for the long run too.
7. Dark setting
On ordinary people spend 5-6 hours on their phones, especially in today's time when all the work is organized, managed, and regulated through phones. Hence it gets essential to give propel a soothing experience. Enabling a dark mode to your site is a sure and short way to improve website performance, making it eye-friendly even in darkness.
8. Enable AI and Bots
This is the most fantastic technique introduced in web development. Establishing bots for regular and repeated activities would help the visitor feel cared for as it gives instant relief and directions to the visitor. Also, with the help of AI, you can make your website more visible and remind the visitor about your existence.
9. Push notification
These are irritating sometimes, but one cannot ignore the responsiveness it renders. This notification helps you invite visitors time after time.
10. Security is the concern

Suppose you are running an online domain. It is essential to maintain a good amount of security. Many companies went into trouble because of data leaks and cyber security reasons, so keep an eye on the security preferences of your site too. So, these were the latest trends in the web development domain. If you want to avail these trending web technologies, then it would be nice to contact the best web development services in Dubai.
Related Post